Five months ago, Oregon Governor Kate Brown issued Executive Order 20-12, which closed all "non-medical massage services" to limit the spread of the Coronavirus. Unless prescribed by a doctor for medical purposes, massage therapy was prohibited across the state. Most massage facilities closed at that time, including our own on-campus Portland massage clinic. Three months ago, the Governor outlined reopening procedures, specifying requirements for each phase of restarting the economy. If their county was approved for Phase One, non-medical massage providers could reopen. As of late August, every county in the state has been approved for Phase One reopening. Assuming massage therapists can meet state safety guidelines, they can now do business.
What are the safety requirements that must be in place to reopen an Oregon massage clinic? Read on to find out.
Massage Therapy During Coronavirus: Oregon Safety Imperatives for Phase One
Ask screener questions before appointments, and record client information.
Clients must answer Covid-19 screening questions prior to each appointment. These questions cover recent symptoms and activities. Massage therapy providers must record client information for tracking purposes. (Tracking virus carriers is an important part of reducing the spread of infection.)
At the East West College massage clinic, we email these screener questions to clients, so no contact is required.
Provide masks for clients.
As masks are now required in public spaces across the state, clients should be wearing masks when they arrive to massage appointments. State reopening guidelines also require massage therapy clinics to provide masks for clients.
At our Portland massage clinic, we provide a mask for each client. We also supply a larger paper bag for clients' clothes and belongings. This bag is placed under the massage table during treatment.
The client and massage therapist must wear a mask throughout treatment.
Social distancing is impossible when providing personal services such as
cutting hair, manicuring nails, inking tattoos, and giving massage. For their protection, both client and provider must wear masks throughout the visit.
Clients must wait outside the clinic/in their cars before appointments.
As most personal service businesses lack large enough entry areas for proper social distancing, clients must stay in their cars, or outside of the premises, until their appointment times. At the East West College clinic, we have removed almost all furniture from our lobby, so that clients can easily social distance. We have also staggered our appointment schedule to minimize the number of clients arriving at the same time.
Maintain 6 feet of distance between clients.
From entry to intake to massage table to exit, clients must be able to easily practice social distancing. Visual markers, such as floor signs, can help establish this distance. We want our clients to feel safe and relaxed, so we have installed plexiglass guards at our clinic's check-in counter, as well as visual guidelines for where to stand. Our intake area, where student therapists consult with their clients, is carefully set up to allow for conversation while still preserving six feet of distance between everyone. And our massage tables are spaced far enough apart to preserve social distancing as well.
Remove all unnecessary items from waiting areas, such as magazines and snacks.
Because we are still unclear on whether the virus can spread via contact, therapy clinics must remove any extraneous objects from waiting areas. If you were familiar with the layout of our clinic before Covid, you will be surprised to see how minimalist it is now. We have removed most of the furniture, as well as all magazines, to protect clients and providers by limiting shared contact.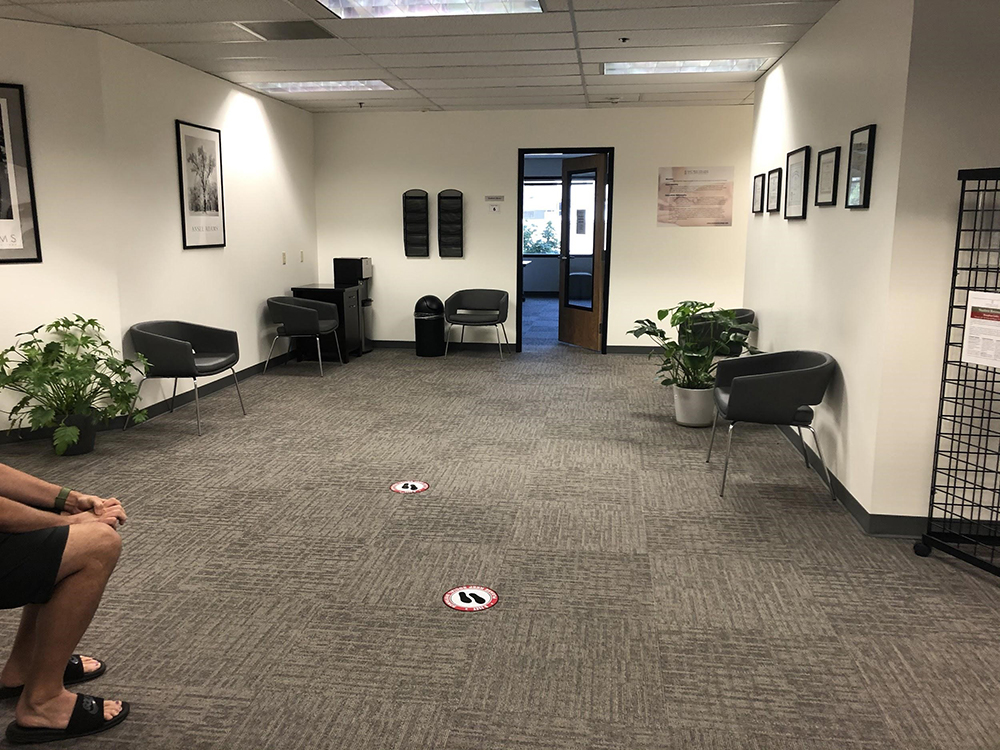 Assign only one provider to each client for the entire appointment.
To minimize the risk of transmission, each client should only see one provider. This may require some restructuring for clinics who split up treatment. Rather than switching between providers for different services, each client should only see one practitioner per visit.
Post signage on Covid symptoms and best practices.
Information should be displayed in each clinic to inform clients on the Coronavirus and how it is spread. Printable signage is available via the Oregon Health Authority's website.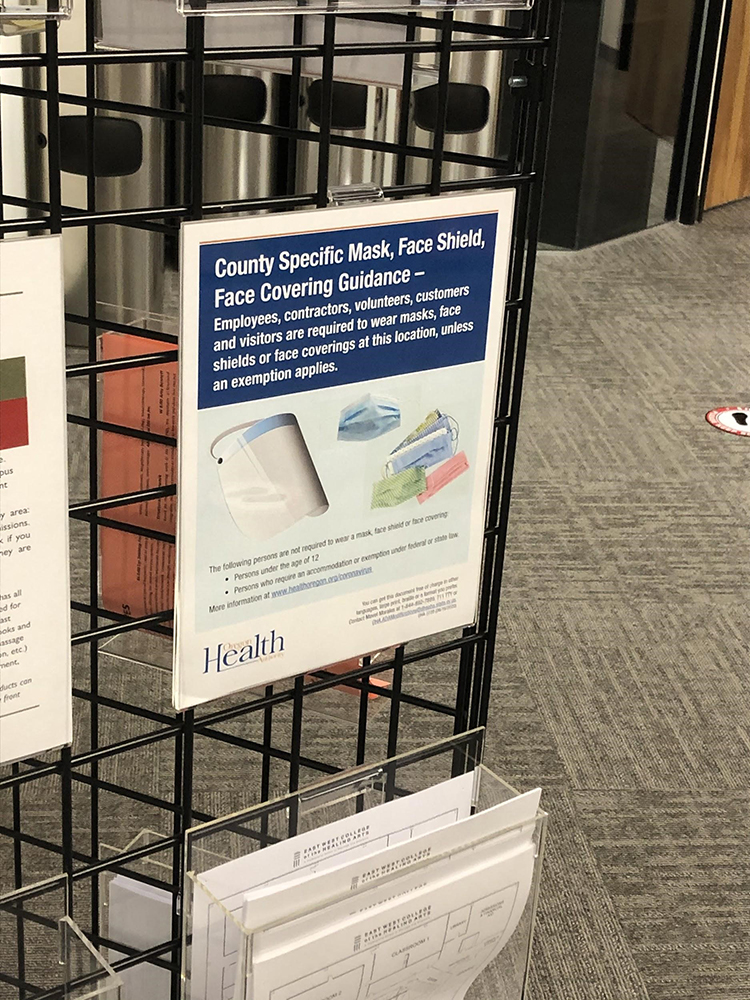 Beyond operation requirements, the State of Oregon has also provided an extensive list of recommendations for personal service providers. We encourage massage therapists to carefully examine the state's Phase One reopening requirements, and to regularly check back with this document to ensure excellence. Each clinic can successfully and safely provide healing through ongoing operational improvement.
Our massage school in Portland has reopened, with students back in class and clients back in the clinic. We have transformed our operations to be entirely paper-free, with screeners and treatment assessments emailed to clients. For more information on our Covid-19 preparedness, visit our website. And if these stressful times have inspired you to heal others, we encourage you to consider massage therapy as a career. For more information, please get in touch with our admissions team.